88% of consumers that use a mobile device to search for a business type put a call through or visit that business within 24 hours. A well-designed and mobile-responsive website can gain traction, increasing sales for your business. Maximize your profit margin by learning how to create a business website. With software and some steps, you can design your business website. It's as simple as ABC. 
Today, having an online presence is indispensable to your business. Prospective and existing client's lookup the web for information about products, business location, operating hours, etc. You need not know about coding to create a lucrative and functional website. You can develop your professional website by following a few rules, tips and steps. 
However, do you want to create a website for your brand? Below is a step-by-step guide to creating a small business website without having any technical skills. 
Here you go… 
Now, it is high time dive into build a website with step by step process. 
How to Create a Business Website: Step-by-Step
How to Create a Business Website or build a website? I will show you the ultimate step-by-step guide for you. Surely, you will not need to search any query on this topic in the Google anymore.
The following infographics will give you from step 1 to 10.
Get a glimpse of the whole process –
1. Identify the main objective of your business
Before creating your website, you should recognize the purpose of your website. A business website contains all the necessary information about your brand. Your website should entail the landing or homepage, about page, products page, and the likes. 
If you intend to make sales and profits, you'll need to take time to set up your website painstakingly. Are you a retailer or service provider? Do you want to introduce online payment to your customers? We'll discuss that in the latter part of the article.
Key takeaway: Determine the aim of your website. How to create a business website needs a plan on how you want your site to be. What are your goals for the site? Begin working on them.
2. Choose and register your domain name
The next step in building your website is to decide on your domain name. A domain name is your website name and address. It's often your business or brand name. Since this is usually the link or URL (Uniform Resource Locator) you share with your prospective customers, you might want to consider making your domain name short, descriptive, and easy to recall. 
Ensure it doesn't contain abbreviations, figures, numbers, and acronyms. Domain names with abbreviated form and having numbers can be inaccessible to customers, affecting sales.
Some information about Top-level domain (TLD)
Besides deciding on a domain name, you also need to choose a top-level domain or TLD. A top-level domain is the last segment or suffix of a domain name. This can include .com, .net or .org. Nevertheless, there's been a modification in TLDs in recent times.
Top-level domain names mainly now based on location or business. For example: .nyc, .marketing, .agency or .law rank high among the new TLD names. Regardless of the various options available, .com is still widely used by website owners.
After you must have picked a domain name, you'll have to check if it's available and buy it via a domain registrar. Popular domain registrars include GoDaddy, Wix.com, and Squarespace. While choosing a domain name, ensure you check copyrights to infringe on any person's protected name.
Is your handpicked URL taken by someone else? You can reach out to the person using it through the Domain Company and strike a deal with them. If it works in your favor, you can purchase the domain name from them. This usually costs $70 per domain.
Since your domain name is your website's home address and determines your brand's success, you need to pay attention to it. Here's why you should carefully select your domain name:
Names are quite powerful and hold meaning; the same goes for a website. So you'll need to pick the right domain name.
Choose a domain name for your WordPress website
While we can't select a domain name for you, we can guide you through the steps of obtaining one. Though there's no one rule thumb to choosing a domain name, these steps can be helpful:
A. Opt for keywords that define your website
Are you looking for a domain name? There exist various ways to develop ideas for your domain name. It could be your name or existing business. Nonetheless, a significant factor of a functional domain is a strong keyword. Just like in content, keywords are useful in your domain name as they help SEO. This can help your site rank higher in search engine results.
Furthermore, this enables visitors to have a clue of your niche and site's goal. Tools like Google Keyword Planner and KWFinder make keyword search more productive with high search volume and low competition. Don't forget that the keyword you're searching for reflects your website and content.
B. Use a domain name generator to browse your options
After you must have decided on some keywords, it's about time you generate ideas for your domain name. Though this doesn't require any form of special tools, it's usually hard getting the domain name as most would have been taken. You can easily select a domain with a domain name generator such as – Search for Domain Names at Godaddy.com.
Godaddy brainstorms different names for you while ensuring suggested names are readily available for purchase. To use the domain name generator, go to this link and input a keyword in the search box. 
For instance, you can begin with any domain name. But, this will give you an instant result which one is available right now. You may find some premium domain that could cost much higher than average. Because, these domains consist of widely used keywords as well as easy to remember. 
If you don't have enough budget for premium domains, Choose any of them, but you can enter a different keyword or go through the many suggestions and ideas if you don't like the results.
C. Choose the best domain name considering some factors
Now, you're on your way to acquiring a domain name for your website. While you must decide on a domain name, there are some factors you need to consider before making your decision. 
To make the best choice, you'll need to determine if your domain name is:
Lastly, it would help if you considered your domain name Top-Level Domain (TLD). Top-level domains are usually suffixed at the end– .com, .org, .net, and others. Several sites use .com. since it's simple and more comfortable to remember. 
Nevertheless, it's becoming difficult to obtain quality .com domain names. This has resulted in users trying other options. Do you like a non-.com name? Why not go on to purchase it. In choosing a TDL, ensure you don't select .co.uk or .ca since Google geo targets websites. Opt for extensions that enable Google to geo target your website.
D. Register your new domain name
After you've chosen the right keyword, domain name, and TLD, what next is to buy a domain name. Domain purchase varies from one hosting provider to the other. You can buy a domain name while signing up for a hosting plan or through a dedicated registrar or hosting company. 
Your hosting and domain name can be purchased from different sites. Even if you buy your domain name somewhere, you can link it to your new or existing site. This connection depends on your choice of a web host. Ensure you go through your provider's documentation or seek help from their support team during the transfer process.
Final takeaway on choosing domain
Your domain name creates an image of your website in the minds of users. It's expedient you choose the one related to your brand. Selecting a domain name can be an arduous task, but it's pertinent to have one. With research and the right tools, you can pick your domain name.
In choosing a domain name for your business site, be sure you're following these steps:
i. Opt for keywords that define your website.
ii. Use a domain name generator to browse your options.
iii. Choose the best domain name considering some factors.
v. Register your new domain name.
A web host is one of the things to consider when planning how to create a business website. A host is needed for every website development to become a reality. The host acts as a server to store data for public access. You may need to choose an external host if you are a small business owner, as it may be too expensive to host your website personally.
Based on your budget, there are two different routes available. One is a shared web host, a cost-effective option where the server is shared with other websites. The second option is dedicated, more expensive hosting. Dedicated hosting entails running on your private server without sharing with other websites that could affect your speed.
You will find web hosting services among the packages offered by some web building platforms, such as Wix and Squarespace.
These are several web hosting services to choose from; we will mention three:
This hosting service offers two options (shared and dedicated hosting). There is a Lite hosting plan for new users, which is ideal for small businesses at a discounted rate.
They provide 4 different types of hosting. These are as follows –
This hosting platform offers three hosting options designed for WordPress websites. The hosting plans include DreamPress, DreamPress Plus, and DreamPress Pro. Presently, it costs about $16.95 monthly to host.
If you desire a cloud-based web hosting option, 1&1 Ionos is a perfect choice. There are various packages and plans offered, but the price is about $1 monthly.
In most cases, you won't find good things free; such is the case with web hosting as there is no free web hosting out there. If you find a free web hosting platform, you will also have to accommodate ads on your website to make up for the free website hosting. 
There are questions to ask and things to consider before choosing your ideal web hosting platform. For instance, please note how well they can provide information about its reliability and server locations. When your site is live, you may need to assess periodically to ascertain your hosting needs based on site performance and customer experience.
Key takeaway: Ensure you choose a web host that offers you data security and reliability.
It would be best if you had more than a static homepage for a great website. There is a need to create more pages to highlight your business's aspects and showcase your product and services. Ensure each website page created aligns with the overall objective and goal of the business. Also, each page should be convincing with a clear purpose and have a call to action.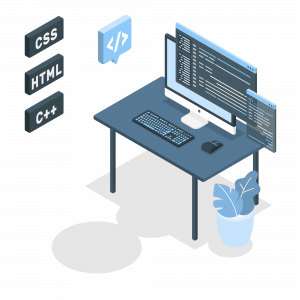 One of such essential pages to include on your website is the Contact Page. This page directly links to you; business and contact information should be placed on this page. The About Us page should contain what the business offers and the founding members. 
There are questions to ask and things to consider before choosing your ideal web hosting platform. For instance, please note how well they can provide information about its reliability and server locations. When your site is live, you may need to assess periodically to ascertain your hosting needs based on site performance and customer experience.
Key takeaway: Ensure you choose a web host that offers you data security and reliability.
It would help if you also stepped it up a notch by creating a logo for your website so that visitors can quickly identify your business on the website. 
Essential tips for creating an efficient and well-optimized website page: 
Have a clear understanding of your business offering
Break down what your business offers into a clear and concise statement easy to read and understand. This is important as visitors have less than 60 seconds to decide whether to stay or leave your page. You don't need many web pages if it doesn't have quality content, rather keep it simple and concise.
Place calls to action (CTA) strategically.
Ensure you use the right CTA buttons for each web page. For instance, the "learn more" button is ideal for the About Us or Contact Us page. While the "buy now" button is appropriate for the product page. 
Several well-designed website pages have become a mediocre site because of stock photos. It is ideal to use a personal office or team picture for your page rather than stock photography. Also, invest in good images as image quality enhances sales.
Key takeaway: Ensure your web pages are engaging and informative to offer a positive user experience. Place calls to action (CTA) strategically to prompt action in your users.
5. Set up an electronic payment system (if applicable)
Some businesses do not require an online payment option, but payment options can be integrated for businesses that use this option. There are payment processors and e-commerce software that can make electronic payment systems a reality.
Most web hosts offer electronic payment functionality; all you need to do is research and check their service options that suit your present and future business needs.
Key takeaway: There should be a payment processing setup for E-commerce businesses on their websites. This can be achieved through a third-party payment processor or e-commerce software.
6. Test and publish your website
Still in the process of learning how to create a business website, your website has been successfully designed and hosted. You are set for the big announcement. But, wait a bit! Have you tested it on major browsers such as Chrome, Mozilla Firefox, and Internet Explorer? Does it load all pages and images? Do the links work correctly? All these are little details that need to be sorted before the big announcement.
You should also check whether your website loads correctly on mobile devices. This is crucial as search engines prioritize mobile-friendly sites for website ranking. 
Another aspect of setting up properly before going live is the analytics program. This will help you solve issues and effectively coordinate your website activities. Your analytics will help you monitor the performance of your pages and determine your website conversion rate.
Key takeaway: Don't forget to test your website and fix any errors before going live. Repeat this process whenever significant updates and upgrades are done to your website.
7. Market your website on social media
In the bid to increase your customer base, audience reach, and target awareness of what is happening with your company, social media platforms such as Facebook, Twitter, LinkedIn, or Pinterest are among the most efficient ways to accomplish this. 
When updates are created on your company's website, they can also be posted on your social media pages, maintaining their originality without a glimpse of ingenuity and promotional engagement. 
The update would be coupled with links that would direct people from your website to your social media page. The usual manner of doing this is to create a top menu bar (the auxiliary bar commonly at the top right corner that holds login or contact links) or footer.
Key takeaway:   Your website is the core of your digital marketing endeavors but should not exist in a vacuum. Propagate your website on your social media platforms to enhance traffic.
Add valuable contents for your reader or audience. It could be via blog or any other digital resource sharing. In starting on how to create a business website, including content would likely happen almost immediately. But before creating and adding content, it is advisable to have a rough outline in mind. 
Successful businesses usually have the following (Click to find the description of the following sections):
​Avoid stock photos​
​Products, Services, or Portfolio page​​
​Contact page​​
​Avoid stock photos​
This is integral as it is the first that a visitor encounters on your web page. It provides the viewer with a brief of your services and provides obvious navigation to various web pages. 
​Products, Services, or Portfolio page​​
​Contact page​​
This is much needed for many businesses in this age, and it's a useful marketing tool. WordPress and popular website builders such as Squarespace and Wix enable you to easily create pages and add blog posts.
If you have just less than 2 hours to learn how to create a website for your business, the following video will guide you to your goal. 
NB: After watching this video, you have another 2 points to cover for boosting and managing your site. Read those point after watching the full video if you want –
9. Invest in search engine optimization (SEO)
This is to help rank your website as the top relevant site for the service and product offered. Search engine optimization is the strategy used. Providing your website to the crucial search engine will aid divert potential leads to your webpage. These major search engines will employ an effective SEO strategy through your website.
Making use of meta descriptions, title tags, and Uniform Resource Identifiers that are in sync with your company's niche will ensure your rank well in search engine for the 
Constructing appropriate keywords into your writeups from the initial stages of your website and having a definite focus on SEO from the website launch will help you build traffic early on.
Products, Services, or Portfolio page
Choose the right keywords.

You are making use of the relevant keyboard to your business that your customers search online. Learn more from our guide to SEO business tools to know solutions that would help you identify, analyze, and track these keywords.

Publish fresh content.

Consistently putting-up writeups on your blog, updating your web content signifies to the search engine that your website is active and relevant for the peculiar keywords. Focus on topics and exciting articles relevant to your business and the industry to position your business in a relevant space.

Optimize images. Reduces the size but not quality, also called effective compression, of images and videos on your website to prevent your page from loading slowly. This reduces the loading period per page and would not bore your visitors. Also, captions and tags can work on your keywords and inform and instruct the search engine concerning your site's direct image traffic.

Maximize your site speed. Your site pages should load with less time within seconds. Google's PageSpeed can be used freely to check if your site is performing efficiently.
Key takeaway:  To expand the traffic to your web page, invest resources into SEO to enhance your website's search engine ranking. Effective SEO strategy is important in your quest on how to create a business website.
Being on edge on relevance is crucial; hence, regularly update your website with blog articles on trendy industry products and offer and company news to ensure visitors return to your site.
Be up to date with your software to prevent being hacked. It will help if you run a routine check monthly to ensure software and add-ins are up to date. Because when the software is not up to date, it is at risk of being hacked. This task should be delegated to a reliable employer, freelance website manager.
Reach more customers can be more effective when you start a website for your business. It will help create credibility that may not be realized through traditional marketing strategies.
Also, keeping your website updated with the trend and fresh content with the ease of addressing technical issues will not have to worry about not being relevant to your existing or future clients.
Key takeaway:  update your website with fresh content and prompt information to ensure it stays as a priority in the subconscious of the audience. 
Tips to Create a Highly Effective Website Content
Have you ever wondered how websites are built? From brainstorming to decision making, website development entails so much more. A professional website should have a mission statement, products page, contact us page, and others. 
With the Contact Us page, you can create a form to ask your potential clients questions on meeting their needs. You also get details like their full name, phone number, and mailing list. By now, you have an idea of what a website should look like.
You should maintain the rule "Visitor First"
Though these ideas are beneficial to the organization, they don't profit the users. Like the catchphrase, "customers first," you need to consider your clients first in all you're doing. Even your website isn't left out. Bear this in mind- it's never about you; it's about your customers. 
Have you tried studying the best websites? What makes them stand out is their customer-centric feature. They build the website to appeal to clients' tastes while presenting visitors with all the necessary information they need to know about their business, thus creating trust. It's expedient for web content to be concise and clear as this makes for easy navigation and user-friendliness.
Users visit your site for specific reasons and goals. You'll do well to help them attain their goals while ensuring they have a positive user experience.
You need to answer these questions to improve your brand –
FAQs on How to Create a Business Website
The steps on creating a business website from scratch are comfortable with the steps highlighted in this article. Here are some key takeaways for those that intend to learn how to create a business website:
State clearly your business objectives and learn how to create a website business plan.

A business website doesn't need to be expensive; determine how much to create a small business website.

Get your domain name registered and host your website.

Ensure your content creation and marketing strategy is spot on.

Add website analytics to monitor your web pages conversion rate.

As a small business owner, you might need to add electronic payment functionality on the website.

Do regular updates, upgrades, and site maintenance.
Lastly, note that simplicity is vital; ensure your business website is easy to navigate and contains a call to action (CTA). 
Now, I am sure you have no confusion with the question "how to create a business website." Isn't it? Create a website to boost your business. 
Best of luck for your business! 
Please share your thoughts in the comment box.